A community within a community, Woodland Towers offers so much more than an affordable and secure place to live. There are a multitude of activities and services available for our residents ranging from aquatic fitness programming in our therapeutic pool, convenient mobile banking services, and relaxing spa services that enable our residents to maintain their independence, all from within the comfort of their own home.
This morning I went and stocked up on my groceries, participated in an exercise class, had my hair styled, and then had lunch with my friends; all without setting a foot outdoors!
Congregate Dining
At Woodland Towers, we believe in actively creating community amoung our residents. One of the main ways we do this is through providing our residents home cooked meals each month, served in our beautifully decorated dining room.  
The Woodland Towers Dining Room provides two meals per day, seven days per week and each meal is designed by our Nutrition Services Team to ensure that it meets the dietary needs of our residents.
The following are the set start times for each meal service:
Noon Meal - 11:45 am
Evening Meal – 4:45 pm 
Recognizing that our resident's lead busy, active lives, our weekly menu is posted at the entrance in each elevator, as well as on the main bulletin board, and television screen in the Front Lobby, allowing you the flexibility to attend based on your meal preferences and schedules. 
While residents participate in a minimum of 16 meals a month, they are welcome to purchase additional meals as they wish, and families and visitors are welcome to join the residents as guests for any meal for a nominal fee.
Exercise Programs
Our Certified Seniors Fitness Instructor offers exercise programs designed specifically for Older Adults and those suffering from chronic health conditions. Our programs accommodate a wide variety of functional abilities and give you the tools and education you need to prevent falls and age at home.  There are three levels of classes to choose ranging from gentle to moderate to vigorous.  Please click here for our class selection.
Corner Store
We have a corner store located onsite for your small grocery needs, and is presently open 2 days a week for your convenience (subject to change).
Store Hours are as follows:
Mondays 9:30 - 11:00 a.m.
Fridays 9:30 - 11:00 a.m. 
Please click here for more information.
Hair Dresser
"The Meeting Place Salon & Spa"
Conveniently located in the lower level of tower 2, a relaxing salon and spa environment is provided. Services offered include reflexology, paraffin wax treatments, manicures, pedicures and hair treatments for men and women, available for additional cost.
Please call Sharon at (519)-271-4090 ext. 2284
It is located at the entrance to the South Wing of the Spruce Lodge complex. Hairdressing and barbering services are available by appointment.
Please call Bonnie at (519)-271-4090 ext. 2262
Laundry Services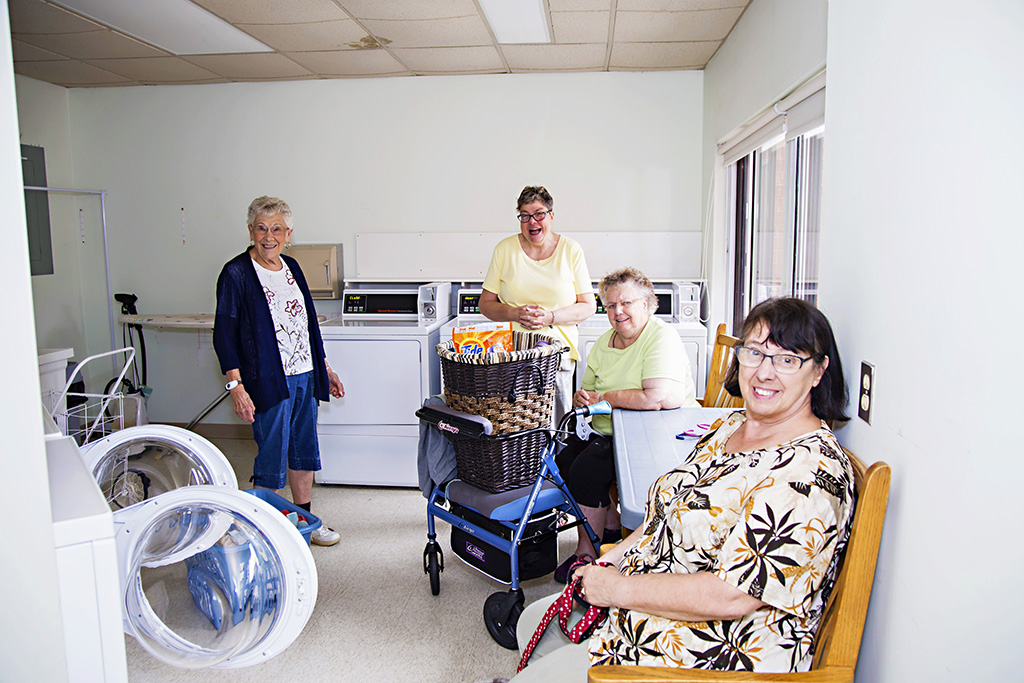 Both Towers 1 and 2 have their own laundry room, with 3 front loading coin-free operated washers and dryers.  Each resident is designated a  one and half hour weekly time slot. All residents are required to use  laundry pods in these machines. (Pleaes note: no bleach allowed)  A nominal fee is billed to each resident on their monthly statement. 
For those residents in Woodland Towers 3, they have the option to owning their own apartment sized washer and dryers in their units. There is a laundry room located in the lower level of Tower 3, for those residents who do not have their own.  
Blood Pressure Clinic
Recognizing that monitoring blood pressure can be challenging at times, our registered staff member is available during our monthly blood pressure clinic to take your reading and can assist with notifying your family doctor of any concerns that may arise.
Flu Clinic
Offered in house by our Registered nurse during the flu season.
Wellness Room 
We have a Wellness Room with certified fitness equipment geared towards older adults and those with mobility needs. This room is open for all Woodland Tower and Hamlet Estates residents with suggested routines paired with easy to follow instructions available for all.
Therapy Pool
Every Woodland Tower resident has access to our Therapy Pool. To see types of programming available, please click here.  
Banking Services
Offered by two local bank branches, Scotiabank and Your Neighbourhood Credit Union have drop in banking hours offered on a bi-weekly basis to assist with your banking needs. Please refer to the Woodland Towers Activity Calendar for the schedule. 
Church Services
Spruce Lodge recognizes the importance of the spiritual dimension of life. The Spiritual Care Coordinator, in conjunction with the local churches, organizes regular worship services for many faith groups in the Spruce Lodge chapel.
Jim Henry Library
The Jim Henry Library is named after the first Administrator of Spruce Lodge, and is located on the 2nd floor of Woodland Towers Tower 1.  It is well stocked with current best sellers, puzzles, and movies. No card is required, but the honor system prevails: take, enjoy and return. 
Room Booking
There are two rooms available for residents and family to rent when a larger space is required: 
The Griffith Auditorium is available for larger gatherings and can be booked by contacting the main business office.  
The Activity Room is available and provided free of charge to the residents of Woodland Towers.  Located in the lower level of Tower 1, this room is available for residents to host smaller family functions (less than 25 people) and can be booked through the Activity Coordinator or through the Support Services Manager. 
To book either of these rooms, please click here for the contacts page.