The Spruce Lodge Labryinth Garden is a beautiful outdoor 'place of peace', offering residents, families and the larger community an oasis of calm.  It features a walking path, peaceful resting spots and gardens nestled in amoung the beautiful spruce trees on the Spruce Lodge grounds.
The Labyrinth is not a maze.  It engages an entirely different part of the brain.  In short, it is 'a simple, self-led walking path that simulates a spiritual journey'.  Labyrinths have been used for over 4,000 years and provide an opportunity for calming the mind and soul, for meditation/prayer/insight, to relieve stress, for spiritual peace and so much more.   An ancient healing practice, it can lead us back to ourselves, offering a place to quiet the spirit or simply walk outdoors surrounded by nature.
While this garden can be used for many things, such as team building, weddings, social gatherings, it is lovely to simply sit in peaceful appreciation of nature, or walk the labyrinth with gratitude in our hearts for all of our blessings.
We welcome the community or anyone visiting Stratford to come and enjoy this outdoor sanctuary at any time.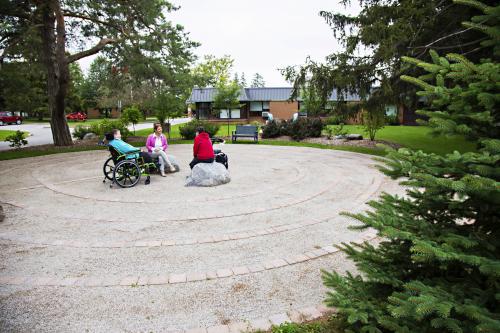 Peaceful, I want my family to experience it.  I can't even describe it.
Here is what others have said about their Labryrinth experience:
"It's so peaceful here."   
 "What a beautiful experience!"    
"I wish I could just stay here." 
"I never experienced anything like it.  It was just perfect.... nothing here is perfect, but it was perfect"